Der fliegende Holländer
Joseph Keilberth
Chor und Orchester der Bayreuther Festspiele

Date/Location

7/15/19 August 1955
Festspielhaus Bayreuth

Recording Type

| | |
| --- | --- |
| live | studio |
| live compilation | live and studio |
Cast
| | |
| --- | --- |
| Daland | Ludwig Weber |
| Senta | Astrid Varnay |
| Erik | Rudolf Lustig |
| Mary | Elisabeth Schärtel |
| Der Steuermann Dalands | Josef Traxel |
| Der Holländer | Hermann Uhde |
Reviews
musicweb-international.com
Despite the plethora of recordings available, a really good, satisfying recording of Wagner's first true masterpiece is hard to find. Many sets have great virtues but also concomitant flaws. The greatest Dutchman on record would perhaps be Hans Hotter in his prime in a 1944 Munich studio broadcast. However Viorica Ursuleac's treacly soprano is not to all tastes and the sound, while perfectly tolerable for its age and provenance, is primitive.

I have always considered this Keilberth edition to be the best available even when I owned it only on mono CDs rather than the three stereo LPs issued in 1976. Previously, if you had to have a stereo recording, the choice was trickier, as none really leapt out as the best option. I discount two that some swear by as I am no great fan of either Fischer-Dieskau or Theo Adam, but I do very much like Anja Silja's febrile Senta which is heard to advantage in what I consider to be one of the two best stereo recordings: the 1960 studio set from Decca, which has two great stage animals in George London and Leonie Rysanek but suffers from Dorati's rather tame conducting, and the live Bayreuth recording from 1961 under a youthful, more energised Wolfgang Sawallisch with the rich-voiced Franz Crass, aging, but characterful, Josef Greindl as Daland and an otherwise indifferent cast.

However, now that this 1955 Keilberth performance, assembled from various rehearsals and performances at Bayreuth in July and August in 1955, has been made available in stereo by Pristine, it takes its place at the head of the field. It is self-recommending in that it features the superbly vocalised, deeply anguished Dutchman of the great Hermann Uhde and a tour de force from Astrid Varnay. Uhde is able to sound almost demented without losing tonal beauty and Varnay, despite a little trademark scooping, manages to rein in her Brünnhilde soprano to give us a mystical Senta who really does sound as if she already has one foot in another world. Some of the supporting cast are less impressive; the ungrateful role of Erik seems to be cursed on recordings but Rudolf Lustig is at least tolerable. Ludwig Weber is a bit woolly but aptly bluff and venal as Daland. Josef Traxel's light, flexible tenor is very attractive as the Steersman. The Festival Chorus under Wilhelm Pitz is terrific. There is nothing in the least of the Kapellmeister in Joseph Keilberth's assault on this marvellous score; he cranks up the tension relentlessly and inspires his performers. As a bonus and to emulate the original LP issue, engineer Andrew Rose has added an "Introductory Fanfare and Bells" in Ambient Stereo, derived from the LPs he used to prepare this CD remastering. I have run out of superlatives to praise his revitalisation of venerable recordings; you have only to listen to the first ten seconds of that stirring overture to realise what a difference his XR remastering process makes. This performance was always arresting even in mono but now it veritably leaps out of the speakers.

Some may wonder why I do not favour a more modern recording. Apart from a personal antipathy to the two Dutchmen I name above, I do not enjoy Karajan's weirdly low-key, "symphonic" treatment of the score; it is severely undercast, with Van Dam singing beautifully but having essentially the wrong voice and in any case being kept under wraps by Karajan's restrained approach. Clearly any sense of dramatic tension was compromised but its being recorded over two years and Karajan's insistence upon Van Dam playing the Dutchman as an introvert rather compromises the drama. Both Dunja Vejzovic and Peter Hoffmann are vocally embarrassed by the demands made upon them. She is thin and unsteady with weak top notes. He bleats and slides with an exceptionally unattractive, strangulated tone. Neither does Böhm's 1971 recording click and Solti's 1976 version in Chicago manages to be simultaneously sonically overblown and interpretatively rather dull – although I think it the best of the recordings in reasonably modern sound. Norman Bailey, Janis Martin and Martti Talvela all have the right voices – although Kollo is plain horrible, I'm afraid. Since then, as far as I'm concerned, despite a number of new recordings, it has been downhill all the way with nary a voice to challenge the post-war generation of Wagnerians. This live Bayreuth set is now clearly top of the heap.

Ralph Moore
Gramophone
Keilberth's 1955 Ring has received rave reviews – can his Dutchman be as good? This enthralling performance has always been a highly recommended version. Its stereo incarnation was available only briefly on LP: when it was issued on CD by Teldec it appeared only in mono…

As with the Ring, Keilberth seemed on high in 1955; once again his reading moves with electrifying concentration from scene to scene. Keilberth had rehearsed Wolfgang Wagner's new production but Knappertsbuch conducted the first three performances (you can hear how different, more pawky his approach is from Keilberth's in various reissues, none in stereo, taken from a Bavarian Radio broadcast). Keilberth achieves a greater unanimity of approach from his players and absolutely superb singing from the chorus (trained by the remarkable Wilhelm Pitz). The orchestra, perhaps because they knew they were being recorded, play their hearts out to create a fusion of notes and rhythm that is really thrilling from start to finish.

The singers are no less inspired. Uhde gives a supreme interpretation of the tortured, yearning Dutchman, on a par with that of Hans Hotter and more evenly sung. His firm, compact, grainy tone is used with his customary artistry to convey the character's longing for salvation, total elation in the love duet, and desperation when he thinks Senta has betrayed him. Phrase after phrase etches itself in the mind in this unmissable portrayal. Incredibly Vamay, who was also Brünnhilde in 1955, brings to Senta a tireless dedication and vision to match Uhde's hero. She fines her large voice down to the more intimate needs of Senta, and only once or twice do the most taxing passages, as her final outburst, slightly strain her resources.

Ludwig Weber's earthy, experienced Daland is another rewarding interpretation. Lustig, who took over Erik from Wmdgassen, makes rather a throaty sound in the manner of earlier German Reldentenors, but he has all the notes and conveys the character's understandable frustrations. The Mary is admirable. All seem under the spell of the work and the conductor in a reading that now has the stereo sound it so richly deserves.

Alan Blyth
classical-music.com
It's good to have this classic live performance back, even if it's less of a rarity than Joseph Keilberth's contemporary Ring. For some weird reason Teldec released this on CD in mono; Testament thankfully restores Decca's stereo tapes, capturing the special Bayreuth acoustic. Performed in its one-Act version, it centres on two exceptional leading performances. The great singing actor Hermann Uhde embodies the Dutchman almost perfectly with his darkly powerful baritone and anguished characterisation, consumed with bitterness and agonising hope. If the late Astrid Varnay's distinctively shaded tones don't quite suggest the idealistic young girl, her passion and power are no less compelling, and their rapport in the great duet is moving. Lustig's fine-voiced Erik inevitably sounds lower voltage by comparison. The great Ludwig Weber is a characterful but rather leathery-sounding Daland, Josef Traxel a mellifluous Steersman; and the Bayreuth chorus is in fine voice, even banished off-stage in Act I. What disagreement there has been centres on Keilberth's conducting, but I doubt anyone would now be disappointed with this spacious and exciting reading. If he throttles back a little in the great setpiece solos, that only strengthens the singers, and he builds up the big ensembles powerfully, with a positively incandescent finale. In its combination of cast and conductor this outclasses worthy Bayreuth rivals under Nelsson, Böhm and Sawallisch. Alongside Klemperer's searing three-Act studio recording and Steinberg's spirited bargain set, it ranks as a prime recommendation.

Michael Scott Rohan
The Guardian
For many years during the LP era, Joseph Keilberth's 1955 Bayreuth performance of The Flying Dutchman headed the list of recommended versions even though, for most of that time, it was only available in mono. Decca had also made a stereo recording, and did eventually release that in the 1970s, but until now it has never been transferred to CD. Testament's release makes a wonderful complement to the label's ongoing Bayreuth Ring cycle, also conducted by Keilberth and recorded at the same festival. One singer was involved in both projects, too: such a feat may be almost unthinkable today, but as well as singing Brünnhilde in the Ring performances, Astrid Varnay was Senta in the Dutchman. Her singing, with its fabulous range of colour and expression, is one of the glories of this set, Herman Uhde's wonderfully human Dutchman is another.

Above all, though, it is Keilberth's conducting that makes this such an involving experience. He obtains superlative playing from the orchestra – the overture is a gripping microcosm of the drama to come – as well as galvanising the chorus. It's wonderfully theatrical.

Andrew Clements | Friday 14 July 2006
Corliss Phillabaum
During the 1950's major conducting responsibilities at the Wagner Festival in Bayreuth were shared by Hans Knappertsbusch and Joseph Keilberth. Usually each conducted one of the two Ring cycles, which was a challenge for the musicians due to their very different approaches to the score. Knappertsbusch was noted for his broad tempos and magisterial style while Keilberth took a brisker, more Amodern approach to the music. Each usually conducted the entire run of one of the other productions each season, with Knappertsbusch especially noted for his powerful performances of Parsifal. In 1955, however, unusual circumstances resulted led the two conductors to share in the performances of a new production of Der fliegende Hollander, with Keilberth handling most of the rehearsals and conducting the three August performances while Knappertsbusch led the final dress rehearsal and conducted the three July performances. The opening night performance under Knappertsbusch was broadcast by the Bavarian Radio and released many years later on CD by Orfeo, while the three Keilberth performances were recorded by Decca and edited for release in mono on vinyl the following year. As an experiment Decca also recorded these performances in the new technique of stereo but that version was not released (also on vinyl) until 1970. In 2006 this stereo version was released on CD on the Testament label. Orfeo's release in 2009 of the performance conducted by Knappertsbusch created the unusual situation of making available authorized recordings of two performances from the same season with largely the same casts but different conductors.

Although the sound quality of Decca's stereo recording under Keilberth is greatly superior to that of Orfeo's broadcast tape, both versions provide clear documentation of the the conductors' different approaches to the music. Knappertsbusch's performances runs 2:33:52, some 10% longer than Keilberth's 2:20:54. The difference is even more striking than the numbers imply since in many passages both conductors take similar tempos and Knappertsbusch's broader tempos only are found in individual scenes. In the some of these moments, such as parts of the Senta-Dutchman duet in Act Two and in the final ensemble his broad tempos force the singers to break phrases which they sing in one breath under Keilberth. Both Astrid Varnay (Senta) and Hermann Uhde (Dutchman) display some vocal fatigue in the Knappertsbusch version, although the pressures of opening night and the aftermath of intensive rehearsals may be significant factors here. The Keilberth recording is a composite of three performances and therefore can be selective in what it includes.

I have long been a fan of Knappertsbusch's Wagner performances, including his unique Parsifal and his Ring, both in the theatre and on recordings. However in this early work, which is stylistically a mixture of old and new, I find Keilberth's aggressive approach more effective, which combined with Testament's superior sound, leads me to prefer his performance over that of Knappertsbusch.

Vocally both performances are outstanding. With her beautiful, focused sound, Varnay is an ideal Senta and Uhde's intense baritone is compelling as the Dutchman, if not as overwhelming as the reigning Dutchman of the day, Hans Hotter. (Hotter sang the role in one of the Knappertsbusch performances which was not recorded.) Ludwig Weber provides a sly warmth of character as Daland along with his rich bass, and Joseph Traxel is a fresh-voiced if rather monochrome Steersman. In the Knappertsbusch performance Wolfgang Windgassen is an ardent and vocally attractive Erik, while his alternate in the Keilberth performances, Rudolf Lustig, is competent but overly lachrymose in the role. These were great days at the Festival
Rondo
"Gutes Rädchen, summ' und brumm'", "Ach, lieber Südwind, blas noch mehr", "Halloho", "hohohe", "Huussahe" und "Jägerglück": Man kann wohl kaum bestreiten, das Wagners "Holländer" für unsere heutigen Ohren so seine Biederkeiten hat. Will man Peinlichkeiten und unfreiwillig Komisches umschiffen, dann braucht man eine ganz unbiedere, eine überzeugende und unmittelbar ansprechende Darbietung. Dieser 1955er Live-Mitschnitt aus Bayreuth erfüllt solche Anforderungen nur zum Teil. Nicht mehr genießbar ist der schreckliche Frauenchor-Jammer in der Spinnstube: Es vibriert und tremoliert nach Herzenslust, immer wieder platzen Einzelstimmen heraus. Kaum noch vermittelbar scheint dem Rezensenten auch Astrid Varnay als Senta: 1918 geboren, präsentiert sie sich doch allzu früh nur noch mit Rudimenten einst sicher vorhandener stimmlicher Reize, stattdessen mit schwerfällig-kloßiger Stimmgebung und vielen erst nachträglich auf die richtige Höhe gelifteten Tönen. Die Attribute eines jungen Mädchens lassen sich so nicht transportieren, stattdessen treten jene spießigen Wagnergesang-Attitüden der Vergangenheit zu Tage, die man eigentlich gern vergessen würde. Insofern passt die Senta dieser Aufnahme eigentlich eher zu ihrem Erik, dem keineswegs befriedigender agierenden Rudolf Lustig, als zum Holländer, der, verkörpert von Hermann Uhde, wirklich ein ganzer Kerl ist: Wenn es Gesangsleistungen ohne Verfallsdatum gibt, dann gehört diese dazu. Kernig und männlich, gut fokussiert, metallisch und schlank, ohne überflüssige sprachliche Hypertrophien, aber meistens hervorragend verständlich schleudert er seine Antrittsarie in den Zuschauerraum – ein Heldenbariton der Sonderklasse, dieser leider nur spärlich dokumentierte Sänger. An ihn reicht allenfalls noch Ludwig Weber als Daland heran. Ein mehr als durchwachsener "Holländer" also, der sicher ein wertvolles Bayreuth-Dokument darstellt, sich aber kaum zum Kennen- und Liebenlernen dieser Oper eignet.
Klassik Heute
Nach 1951 (Parsifal, Götterdämmerung) und 1953 (Lohengrin) war derFliegende Holländer (und der Ring des Nibelungen) des Jahres 1955 der dritte Anlauf der britischen Decca (bzw. deutschen Teldec), Livemitschnitte von den Bayreuther Festspielen zu veröffentlichen. Während der Ring unter anderem aus rechtlichen Gründen für über 50 Jahre im Archiv verschwand und erst jetzt von Testament veröffentlicht wird (Siegfried und Die Walküre sind bereits auf dem Markt), wurde derHolländer damals auf LP veröffentlicht, allerdings zunächst nur in der Mono-Version. Tatsächlich wendete die Decca damals bereits für den Ringund den Holländer die neue Stereo-Technik an, in der die Aufnahme jetzt erstmals auf CD erscheint. Wie beim Ring überrascht das Klangbild durch eine auf Bayreuth-Mitschnitten dieser Zeit ungekannte Frische, Plastizität, Transparenz und vor allem eine frappierend direkte Abbildung der Gesangsstimmen – kein Vergleich zur ursprünglichen Mono-Aufnahme. In der Rollengalerie Hermann Uhdes, eines Spezialisten für gebrochene und zwiespältige, sperrige und auch sinistre Charaktere wie Wozzeck, Telramund, Klingsor, Amfortas, Kreon (Orff) ist der Holländer eine besonders eindringliche Personifikation. Die Getriebenheit, Seelenpein und Erlösungssehnsucht dieses ruhelosen Ahasvers verkörpert Uhde mit einer Direktheit und Suggestivität, der man sich auch heute nicht entziehen kann. Dank seiner stimmlichen Intensität und gesanglichen Charakterisierungskunst kommt dieses Porträt auch auf Platte ungemein lebendig und glaubhaft zur Geltung. Ähnliches gilt für Astrid Varnays Senta, eine Partie, die sie zum erstenmal 1950 an der New Yorer Metropolitan Opera gesungen hatte und die sie hier erstmals in Bayreuth übernahm. Obwohl sie eine stimmlich sehr reife Senta ist, mit den bekannten Schärfen in der Höhe, sind doch einmal mehr ihre sorgsame Textbehandlung und artikulatorische Präzision bewundernswert. Ludwig Weber als Daland präsentiert sich auch noch mit 56 Jahren als vollsaftiger, kräftiger, voluminöser Bass, der neben Uhde und Varnay zu den zuverlässigsten Stützen des damaligen Neu-Bayreuth zählte. Einen Steuermann von liedhafter piano-Kultur gestaltet Josef Traxel, während das larmoyante Geknödle von Rudolf Lustigs temperamentlosem und fadem Erik wenig Freude bereitet. Joseph Keilberth am Pult macht seinem Ruf als "lateinischer" Dirigententypus – im Gegensatz zum "germanischen" Antipoden Knappertsbusch – hier alle Ehre, wirft sich mit unbändigem Feuer und zwingendem Elan in diese Partitur, entwickelt schon in der Ouvertüre einen Drive und eine Spannung, die er mühelos bis zum Schluss des hier pausenlos aufgeführten Werks durchhält.

Kurt Malisch (03.08.2006)
Platte11.de
1955 dirigierte Joseph Keilberth den Holländer in Bayreuth. Die Plattenfirma Decca schnitt direkt im Festspielhaus mit. Es war das Jahr in dem auch Keilberths kürzlich "wiederentdeckter" und wegen der bedeutendsten Wagner-Stimmen der Nachkriegszeit schon legendärer, beim Plattenlabel Testament erschienener Stereo-"Ring" aufgezeichnet wurde. Hier begegnen wir wichtigen Interpreten daraus in anderen Rollen: Ludwig Weber als Daland, Astrid Varnay als Senta, Hermann Uhde als Holländer und Rudolf Lustig als Erik. Jürgen Kesting lobte Hermann Uhde; er sei "der bleiche Schmerzensmann, der vom Weltfluch Getriebene" und liefere "eine glänzende Ausdrucksstudie bei solidem Singen". Doch es gilt auch, was im Urteil des meinungsfreudigen, aber eben auch ungeheuer kompetenten Kritikers eher am Rande anklingt: Technisch singt Uhde nicht gerade brillant. Selbst der von der Fachpresse (auch von Kesting) häufig gescholtene Theo Adam singt den Holländer wortdeutlicher, kontrastreicher und klangschöner. Aber "wie aus der Ferne längst vergangener Zeiten" zu kommen, diesen Ausdruck dämonischer Fremdheit hat wohl niemand so gut getroffen wie Hermann Uhde – nicht einmal George London, obwohl dessen Stimme noch "außerirdischer", weil riesenhafter klingt. Astrid Varnay hatte 1955 auch die Brünnhilde gesungen (Siegfried, Walküre, Götterdämmerung), und gewiss war sie – neben Birgit Nilsson – ein führender hochdramatischer Sopran. Ihre solide Senta lässt kaum Wünsche offen, kann aber auch nicht die Vorstellung von einem zwanzigjährigen Mädchen beim Hörer hervorrufen. Verglichen mit der vokal gewiss anfechtbareren Anja Silja singt Astrid Varnay eindimensional. Die größte Enttäuschung der Keilberth-Aufnahme sind aber die Chöre. Die Mädchen am Spinnrad singen "Summ und brumm, du gutes Rädchen" als hätte man ein paar Trümmerfrauen, die mit dem Aufräumen fertig waren, innerhalb einer Woche auf Opernchor umgeschult und in Bayreuth verpflichtet. Da sind die Standards inzwischen wirklich höher, was sich ja vom Wagner-Gesang im Allgemeinen nicht unbedingt sagen lässt. Recht guter Mono-Klang – antiquarisch auf Decca-LPs, aber natürlich längst auch auf CD.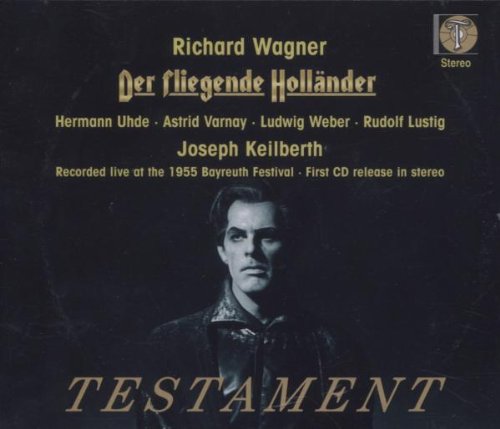 Rating

(7/10)
Media Type/Label
| | |
| --- | --- |
| | Decca, London, Testament |
| | Teldec, Testament, Della Voce Luna, TOL, Pristine |
Technical Specifications
714 kbit/s VBR, 44.1 kHz, 716 MByte, stereo (flac)
Remarks
From the Bayreuth festival
A production by Wolfgang Wagner (1955)
There is a mono and a stereo release available.